As the market tumbles, Solana, Avalanche, and Algorand record losses, and sentiment shifts to "extreme fear."
Solana, Avalanche, and Algorand, Record Losses
Solana, Avalanche, and Algorand, among other altcoins, were slammed in the Jan. 5 market sell-off that sent Bitcoin and the stock falls, according to CoinMarketCap.
As Bitcoin dropped to new lows of $42,500, the Crypto Fear and Greed indicator switched into the "severe fear" zone, indicating panic selling by traders.
Almost all altcoins had big losses, notably those in the top 100 and excluding stablecoins. In the altcoin category, Solana (SOL, -11.33 percent), Avalanche (AVAX, -10 percent), Algorand (ALGO, -13.24 percent), Terra (LUNA, -10 percent), and others all lost double digits.
Fear-driven selling has sent the stock market lower after minutes from the US Federal Reserve's December meeting were released on Wednesday, indicating that the central bank could raise interest rates as early as March.
#Bitcoin briefly fell below $43k for the first time since September before showing a current, mildly encouraging bounce. Both the #SP500, along with #gold, have also tumbled and appear to be quite correlative currently. https://t.co/aiC2rEIZgZ pic.twitter.com/B9hyvwTSDC

— Santiment (@santimentfeed) January 5, 2022
According to Santiment, an on-chain analytics service, the S&P 500 and the gold business both fell substantially when the crypto market fell.
Another headwind in the cryptocurrency mining industry, according to U.Today, is a wave of protests rising in Kazakhstan, the world's second-largest Bitcoin mining country.
To suppress discontent, Kazakhstan's authorities implemented a statewide internet blackout, forcing local miners to turn off their equipment.
The Crypto Fear and Greed Indicator
The Crypto Fear and Greed Index, which measures market mood, has gone into the "severe fear" area, indicating that traders are becoming increasingly concerned.
The index is currently at 15, a level not seen since December 11. Despite the fact that the index recovered from its December low, the improvement was insufficient.
Analysts believe that a move to decrease the balance sheet will exert downward pressure on Bitcoin in the short-to-medium term.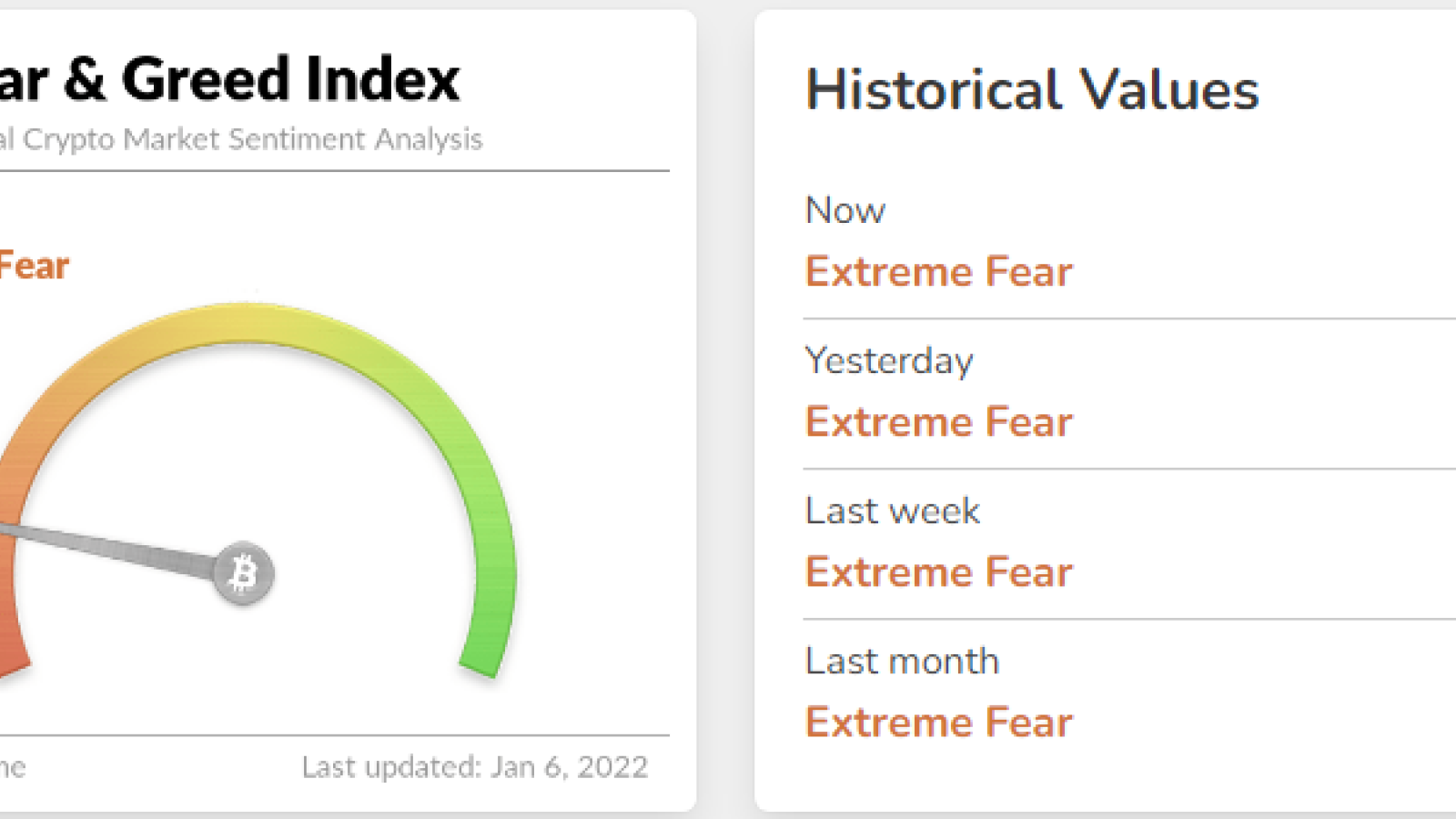 Since the beginning of 2022, Bitcoin has lost roughly $5,000, or 10%. In the next sessions, an oversold RSI could trigger a relief rally or at the very least a dead cat bounce.
Analysts believe that the price range of $40,000-$42,000 is critical to hold for Bitcoin, with behavior above that corresponding to "accumulation."
The trend of cryptocurrencies following Bitcoin's lead hasn't slowed down and is likely to continue in the foreseeable future.