Shiba Inu has gained nearly 7,000 holders since the start of May. Currently there are 1,146,486 people who have a SHIB
Shiba Inu Holders Increase In Numbers
As the Shiba Inu community eagerly awaits the next big item for the SHIB ecosystem, the SHIB holder count is quietly climbing, according to WhaleStats data.
Since the beginning of May, almost 7,000 more people own SHIB. WhaleStats says that there are currently 1,146,486 people who have a SHIB.
At the end of April, there were about 1,139,916 of them. Even though a rise in the number of owners may not affect the price right away, it may show that people are interested in an asset over time, which is a good sign.
The price of SHIB is currently $0.0000164, which is a drop of almost 12 percent in the last 24 hours. SHIB fell to a low of $0.00001664 during the day, which is the lowest price so far in 2022.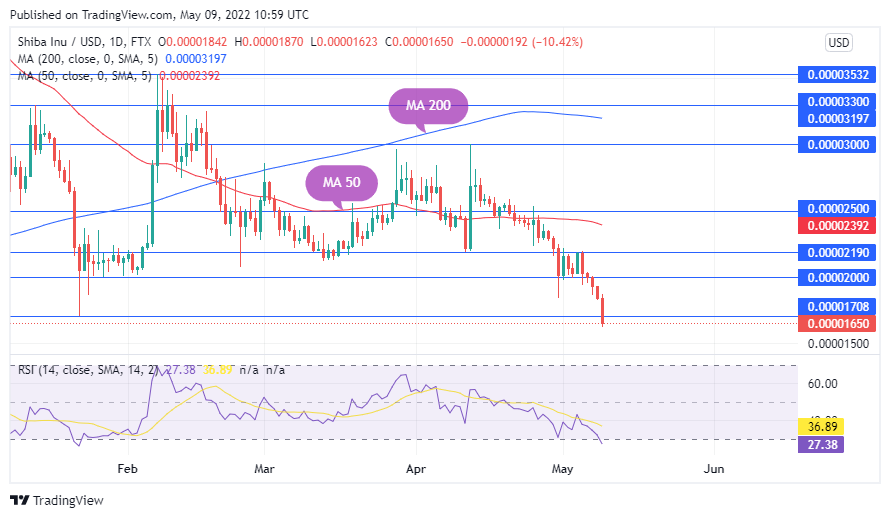 Shiba Inu is trying to find support below the $0.000017 level, which is where its price rose 100% in late January. This can be seen on its daily chart.
The daily RSI is still at historically oversold levels, which suggests that a short-term relief rally is possible and that the price is likely to stay flat before the next big moveștii.
As the crypto market dropped at the end of January, Shiba Inu fell to as low as $0.000017.
In February, the market started to go up again. The price of SHIB then went up by more than 100% and hit a low of $0.0000354 on February 7.
On the other hand, if prices keep going down, the $0.000012 level could be next.
Whale Takes Advantage Of Dip To Buy 56 Billion Tokens
Whales usually take advantage of market dips to buy their favorite tokens at a discount when the market is volatile. "Bombur," an ETH whale who now has 1 trillion SHIB, just spent $1,070,028 to buy 56,946,679,217 SHIB.
Shytoshi Kusama, the creator of SHIB, promises a lot of interesting things for the SHIB ecosystem in the next weeks and months.
Shiba Inu is now trading at $0.000088, down 81.28 percent from its all-time high of $0.000088 set in October 2021, and ranked 16th in terms of market capitalization.